Shellback Dinghy...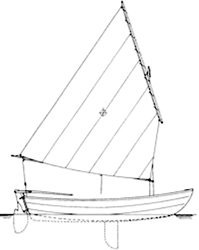 The 11'2 Shellback, a Joel White design, is a stable dinghy that can be effectively rowed, sailed or towed.
The Shellback may be ordered finished to prime paint condition or completed to a yacht standard. A sailing package is available, which may be added at a later date if desired. Details may also be adjusted based on your finishing and hardware preferences.
We first tested the Shellback as a cruising tender in a cruise to Scituate, it was there that we also had our maiden sail. We explored the shoals and inlets of the South River, then jumped over to P-town before returning to Red Brook Harbor. The Shellback served us well when we needed transportation and gave us the avenue for a leisurely sunset sail and a rigorous morning row.
Currently taking orders! New SHELLBACK Dinghies are made in Massachusetts and can be shipped all over the world. Call to place your order or for additional information: 508-563-2800
Shellback Dinghy - click any image below to launch gallery and auto-play... or use keyboard arrows to navigate or controls on image hover. Finger swipe on mobile.
---