Buzzards Bay 25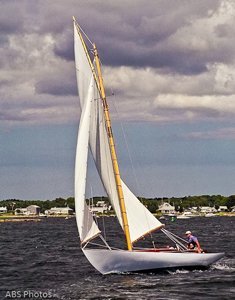 The Buzzards Bay 25 was built to our exacting standards in the late nineties. People who see her for the first time are awestruck with the artistry of her construction and design. The few who have been lucky enough to sail her are smitten for life.
The BB25 was built on a mold, then the completed hull was moved out of the building for turning over and the mold was removed leaving the hull with keel, frames, transom, stem and bilge stringers in place.
This boat was single planked Southern White Cedar and fastened with copper rivets. A double planked boat using cedar and Douglas fir would also be a very good choice. The rivets seem to offer greater longevity with less strain on the frames.
The cockpit is very roomy with long bench seats. We fabricated much of the bronze hardware so that she could be both functional and authentic.
In addition to being a looker, she is a mover!
BB25 Hybrid:
After our experience with building the BB25, we created a design that would offer a little more versatility and comfort. It has slightly more freeboard but with the same low profile and pleasing shear. This modified cabin would tend to make a drier cockpit and offer more comfortable overnight accommodations. All with no great departure from her beautiful lines or exceptional performance.
Currently taking orders! New BUZZAARDS BAY 25s are made in Massachusetts and can be shipped all over the world. Call to place your order or for additional information: 508-563-2800
Buzzards Bay Photo Gallery - click any image below to launch gallery and auto-play... or use keyboard arrows to navigate or controls on image hover. Finger swipe on mobile.