Boats for Sale: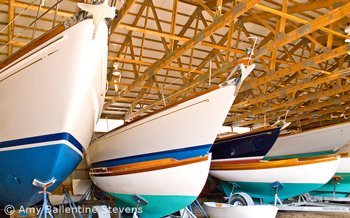 While brokerage is not our main focus, we do offer a limited inventory of classic boats and special vessels. In most cases, the vessels we represent have been maintained here at Ballentine's Boat Shop or are of special quality, design or history.
Our listings, both sail and power, cover a wide range of styles and abilities. From small, classic daysailers to capable offshore passagemakers. After more than 40 years in the industry, we have the experience and knowledge to help buyers and sellers through the process and to help our vessels find the right next caretakers.
In addition to representing brokerage boats, also have new Doughdishes and Stuart Knockabouts under construction at Ballentine's Boat Shop that are available for order and customizing. These boats fit perfectly in a 20' or 40' container and can be shipped anywhere in the world. If you represent a Yacht Club or are interested in multiple boats, please ask us about Fleet Pricing. Contact us for details: 508-563-2800 or Email Us!
---
BOATS FOR SALE: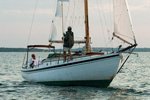 SECRET - 1967 Concordia 31 - $ 28,000. Price Reduced: $25,000.

SECRET's hull is carvel planked with 1" white cedar over steam-bent oak frames and backbone. She was refastened below the water line in 2001 with silicon bronze. The last survey, 2006, found her stem, keel, deadwood, horn timber and planking all to be in good solid condition.
---
TURSIOPS | 1976 Dyer 29 $ 75,000.
The boat was re-powered with a 200hp Yanmar diesel and has totaled less than 400 hours since new. TURSIOPS cruises at a comfortable 14-16 knots while remaining fairly fuel efficient.
---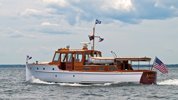 ARIEL II - 1931 Herreshoff Power Cruiser - $725,000.
From her nearly plum bow to the gentle tumblehome aft, ARIEL II's profile illustrates a yacht of classic character and style. Her resemblance to other yachts of the era quickly become irrelevant when realizing the craftsmanship and detail that went into both her original construction by Herreshoff Manufacturing and her reconstruction at Ballentine's Boat Shop.
---
DARKSTAR | Hinckley Pilot 35 $ 65,000. - SOLD!
The beauty of designs from Sparkman & Stephens and the build quality of Hinckley Yachts is a legendary combination. One of the greatest examples of this collaboration is the much respected Pilot 35.
---
GOBLIN 1931 Herreshoff 12 1⁄2 – HMCo No. 1194 $ 24,000. - SOLD!
GOBLIN (HMCo. 1194 – retains original builders plate) was built by the Herreshoff Manufacturing Company in 1931 and has been under the current owner's care for nearly three decades.
---
STUART KNOCKABOUTS For Sale: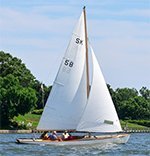 NEREID SK No. 058 - $ 70,000.
NEREID's sale includes multiple mainsails, a genoa, and both symmetrical and asymmetrical spinnakers. The 2003 DICO trailer is included and also in great shape.
---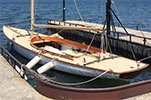 SPRAY SK No. 068 - $ 75,000.
SPRAY is Stuart Knockabout No. 68 built in 2006 and has been thoughtfully maintained; fully equipped including a nearly new spinnaker and gear, genoa, cockpit cover, Torqeedo 801 outboard, and a custom Triad trailer purchased in 2012.
---
CRS SK No. 062 $ 79,500. - SOLD!
After her restoration totaling more than $50,000, SK62 is in nearly new condition at a greatly reduced price. During the large refit CRS was given a new suit of sails. Main is fitted with a Dutchman system; jib is on a furler while retaining the ability to use the jib club. Sale includes Triad dual axle trailer, Custom Torqeedo motor, winter cover and frame. LOCATED IN RHODE ISLAND
---
SKYLARK SK No. 038 $ 65,000.00 - SOLD!
SK38 has been given great care including stripping, refinished her teak brightwork, and updating the running rigging hardware. The sale also includes main and jib sail covers, a cockpit cover, a full boat cover and a heavy duty winter cover, a custom Torqeedo electric outboard, and a custom built Triad trailer.

---
GRIFFIN SK No. 54 - SOLD!
SK54 comes well equipped with 2 sets of sails (Doyle and Harding Sails), sail covers, updated running rigging, and a custom Triad Trailer.
---
HENRIETTA SK No. 39 - SOLD!
HENRIETTA, SK39, was built in 2000 by Edey and Duff of Mattapoisett, Ma. And she has been well maintained by a professional yard on Buzzards Bay since purchase. However, there is some minor damage to the bow that we would recommend having addressed. SK39 is priced well by a motivated seller.
---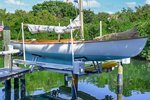 SK No. 44 - $ 80,000. - SOLD!
SK44 has benefited from two very caring owners and remains in excellent condition with yearly professional maintenance completed. A Torqeedo Pod Drive with upgraded controls provides ample power for hours of battery life and more than 20 miles of travel.
---
SK No. 40 - $ 78,000.- SOLD!
YANKEE GIRL is an excellent opportunity to purchase a Stuart Knockabout in Turn-Key condition. Since purchased by her current owner in 2018, SK40 has been given a substantial refit. The work completed included: deck refinishing, mast and spars repainted with awl-grip, new running rigging and an overall cosmetic overhaul.
---
DOUGHDISHES For Sale:
New HAVEN 12-1/2 - $ 35,000.
Built by her owner, this Haven 12 1⁄2 is in nearly new condition, with only one short season under her belt. All hardware is handmade reproductions of Herreshoff design and crafted from silicon bronze by J.M. Reineck & Sons, Ballentine Boat Shop and Bristol Bronze. EZ-Load Trailer in excellent condition.
---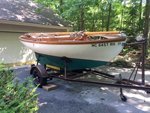 DD 303 Speed Well - $ 28,000.
SPEED WELL remains in great condition with regular attention given to her brightwork and hull. The boat is a complete package and ready to sail with standard sails and covers as well as custom additions. LOCATED IN MICHIGAN
---
HAVEN 12 - $ 26,000. - SOLD!
She has been outfitted with the traditional gaff rig and high quality bronze hardware throughout. The sale includes sails (main and jib) in good condition and an EZ-Loader trailer. Available for viewing in N.J. by appointment.
---
DD 509 CHICKADEE - SOLD!
She is a nearly new boat package at a greatly reduced price. CHICKADEE's sale includes good sails (main and jib) and covers, a custom Triad trailer and a Harding Sails winter cover.
---
DD 51 | Restored - SOLD!
This package offers a buyer an immaculate Doughdish - at a dramatic discount from the cost of new - and customized as their ideal boat. The package also includes a new Triad trailer.
---
Doughdish 148 - $ 23,500.- SOLD!
DD148 is good condition. With a normal yearly work list, DD148 would be an excellent boat for daysailing or competition.The boat is set up for racing with Harken replacements for many of the standard fittings.
---
DADDY'S BOAT Doughdish 140 - SOLD!
DADDY'S BOAT is in very good shape with her yearly work kept up over the years. With a normal yearly work list, DD140 would be an excellent boat for daysailing or competition.
---
DD No. 349 - $ 25,000. - SOLD!
The boat is in good shape all around with yearly maintenance performed regularly. The sale includes working sails in good condition, road trailer, and a 2.3hp outboard. Located in FL; view by appointment only.
---
DINGHIES for Sale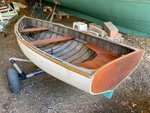 10' Lawley & Son Reproduction $ 3,500.00.
Built by Ballentine's Boat Shop in 1978, this reproduction of a classic Lawley tender is a wonderful example of the classic design built with exacting standards and quality materials. She has been built of cedar planks, oak frames and copper rivet fastening.
---
11' Fiberglass Rowing Tender SOLD!.
A solid little tender and an excellent rowing hull. The BBS crew recently refinished the wood trim with oil and waxed the topsides; both in nice condition. Sale includes a pair of varnished oars.
---
12' Wooden Skiff $ 2,000.00. - SOLD!
A Ballentine Boat Shop built skiff. Constructed of cedar and oak, she would make a great tender or island exploring skiff.
---