Boats for Sale: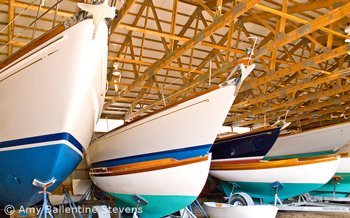 While brokerage is not our main focus, we do offer a limited inventory of classic boats and special vessels. In most cases, the vessels we represent have been maintained here at Ballentine's Boat Shop or are of special quality, design or history.
Our listings, both sail and power, cover a wide range of styles and abilities. From small, classic daysailers to capable offshore passagemakers. After more than 40 years in the industry, we have the experience and knowledge to help buyers and sellers through the process and to help our vessels find the right next caretakers.
In addition to representing brokerage boats, also have new Doughdishes and Stuart Knockabouts under construction at Ballentine's Boat Shop that are available for order and customizing. These boats fit perfectly in a 20' or 40' container and can be shipped anywhere in the world. If you represent a Yacht Club or are interested in multiple boats, please ask us about Fleet Pricing. Contact us for details: 508-563-2800 or Email Us!
---
BOATS FOR SALE:
UpTown Girl - Hurricane Sloop - $ 19,500.
UP TOWN GIRL is a perfect option for a buyer looking for an excellent sailing daysailer with classic lines and proven pedigree. The spacious cockpit seats 6 adults while remaining safe and comfortable. Even with the modifications to the design, the Hurricane remains a solid performer under sail.
---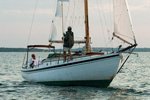 SECRET - 1967 Concordia 31 - $ 28,000.
SECRET's hull is carvel planked with 1" white cedar over steam-bent oak frames and backbone. She was refastened below the water line in 2001 with silicon bronze. The last survey, 2006, found her stem, keel, deadwood, horn timber and planking all to be in good solid condition.
---
SPIRIT - Eldredge McInnis Picnic Boat - $ 42,000.
"SPIRIT" is a bass boat turned picnic boat. She boasts an extensive list of work completed, resulting in a like new classic cruiser.
---
Penbo Sea-O-Ramic - $ 22,500.
"The Boat To Have" - As much of an American icon as the 1957 Chevy, Amaden is the only existing fully restored Penbo 20' (6m) runabout. Built in the early 1960s in Maine, only a handful now survive. Amaden was bought sight unseen from an original owner in 1993 and restored to a high standard over 14 years, by the owner and his enthusiastic helpers.
---
OYSTERCATCHER 14' Stur-Dee Cat - $ 10,000. Sale Pending!
OYSTERCATCHER is a beautifully maintained fiberglass catboat built by Stur-Dee Boats in 2002. Designed by Edson Schock, this classically styled catboat is fitted with oak trim and coamings and a small cuddy cabin to protect your day's gear and provisions.
---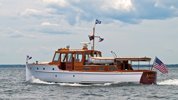 ARIEL II - 1931 Herreshoff Power Cruiser - $725,000.00
From her nearly plum bow to the gentle tumblehome aft, ARIEL II's profile illustrates a yacht of classic character and style. Her resemblance to other yachts of the era quickly become irrelevant when realizing the craftsmanship and detail that went into both her original construction by Herreshoff Manufacturing and her reconstruction at Ballentine's Boat Shop.
---
HUSSAR - 1964 Nielsen 41' - $ 45,000.00 - SOLD!
HUSSAR is a great example of a classic Aage Nielsen design. She is a versatile and lovely cruiser that has carried it's current family from NY to Nova Scotia, over 20,000 miles.
---
STUART KNOCKABOUTS For Sale:
---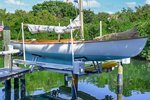 SK No. 44 - $ 80,000.
SK44 has benefited from two very caring owners and remains in excellent condition with yearly professional maintenance completed. A Torqeedo Pod Drive with upgraded controls provides ample power for hours of battery life and more than 20 miles of travel.
---
GRIFFIN SK No. 54 - $ 62,500.
SK54 comes well equipped with 2 sets of sails (Doyle and Harding Sails), sail covers, updated running rigging, electric outboard, and a custom Triad Trailer.
---
WHISPER SK No. 48 - $ 74,000. - SOLD
Whisper was given a thorough rebuild in 2017 including new book matched Teak coamings, toe rails & rub rails, hull topsides re finished with gel coat, bottom fared and barrier coated, new sails.
---
WYVERN SK No. 5 - $ 50,000.
She remains in good condition and would make a great option for updating to your idea needs. WYVERN has been professionally maintained and stored indoors during the off seasons.
---
OL' BEAR SK No. 12 - $ 62,000. - SOLD!
Ol' Bear is SK12 and was built by Edey and Duff in 1992. While she is an older hull, she has been well maintained and updated by her current knowledgeable owner. Recent projects included: repainting the deck, fresh varnish on all brightwork, refinished seats, built under deck shelves.
---
HENRIETTA SK No. 39 - $ 55,000. PRICE RECENTLY REDUCED!
HENRIETTA, SK39, was built in 2000 by Edey and Duff of Mattapoisett, Ma. And she has been well maintained by a professional yard on Buzzards Bay since purchase. However, there is some minor damage to the bow that we would recommend having addressed. SK39 is priced well by a motivated seller.
---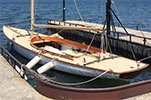 SPRAY SK No. 068 - $ 75,000.
SPRAY is Stuart Knockabout No. 68 built in 2006 and has been thoughtfully maintained; fully equipped including a nearly new spinnaker and gear, genoa, cockpit cover, Torqeedo 801 outboard, and a custom Triad trailer purchased in 2012.
---
DOUGHDISHES For Sale:
LUCKY SEVEN Doughdish 234 - $ 25,000.
LUCKY SEVEN is in excellent condition and fully equipped. Newer sails by Sperry, custom made mooring covers, and a road ßtrailer in excellent condition are all included in the sale.
---
TEACHER'S PET DD 435 - $ 25,000. - SOLD!
TEACHER'S PET is in great condition and after yearly maintenance and a little extra attention to her bottom, she would be in excellent condition.The sale also includes a custom float-off trailer and winter cover for safe storage in the off season.
---
TATI DD 225 - $ 29,000.
TATI is in great condition and benefits from a recent 120 hour refit. Her teak trim has been refinished, her decks painted, and comes will a full inventory of additional gear. The sale also includes a custom float-off trailer and winter cover for safe storage in the off season.
---
HAVEN 12-1/2 - $ 26,000.
This Haven has been outfitted with the traditional gaff rig and high quality bronze hardware throughout. The brightwork is in good shape with her yearly varnish completed in the spring of 2019. The sale includes sails (main and jib) by North Sails purchased in 2010 and a custom Triad Trailer.
---
HAVEN 12 - $ 26,000.
She has been outfitted with the traditional gaff rig and high quality bronze hardware throughout. The sale includes sails (main and jib) in good condition and an EZ-Loader trailer. Available for viewing in N.J. by appointment.
---
CAPTAIN KIDD - 1936 Herreshoff 12 ½ - $ 55,000.
Her restoration was done with methods to preserve her authenticity and remain as an accurate example of the Herreshoff legacy, but to also ensure a longer, less problematic lifespan. She is an excellent opportunity to purchase a completely restored 12 at half the cost.
---
DD No. 349 - $ 25,000.
The boat is in good shape all around with yearly maintenance performed regularly. The sale includes working sails in good condition, road trailer, and a 2.3hp outboard.
---
TRANQUILITY DD 290 - $ 29,500.
She has been sailed in fresh water since new and is in excellent condition needing only bottom paint before launch.
---
JEZEBEL DD 125 - $ 22,500.(Boat & Dinghy)
Doughdish No. 125 was built by Edey and Duff of Mattapoisett, MA in 1981, but has been in indoor storage for a number of years. She is in solid condition, but has a few cosmetic flaws. Suggested projects would include to strip and re-finish the bottom and yearly varnish work. Sale includes boat and dinghy
---
DD No. 038 - $ 10,000. - SOLD!
Doughdish No. 038 was built by Edey and Duff of Mattapoisett, MA in 1976. While this is one of the earliest hulls, she has been cared for by each of her owners and remains in solid overall condition. The sails are serviceable and include a spinnaker and spinnaker gear.
---
DINGHIES for Sale
---