CALABAN: Herreshoff Tender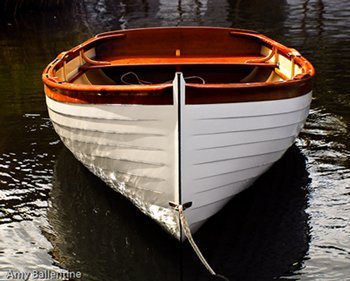 CALABAN gets her name from the same tale that inspired the naming of ARIEL II: Shakespeare's The Tempest.
Ballentine's Boat Shop obtained the original plans for ARIEL II from MIT. Among these plans were offsets and construction plans for a 10 1/2' sailing dinghy, also designed by Sidney Herreshoff. It is unknown if this tender was ever built, but since it was intended for ARIEL II, we decided it was appropriate to build her. CALABAN nestles in cradles on deck, fitting perfectly between the pilot house and the aft cockpit. The plans also included the specifications for a specialized davit system making her deployment and stowage efficient and secure.
CALABAN is constructed of lapstrake planks of sapele plywood, laminated spruce frames, oiled teak sole, and a bright teak rail and seats. The davits were fabricated out of silicon bronze. The block and tackle system utilizes bronze blocks of original Herreshoff design. Her cradle is bright teak with leather pads. CALABAN is also equipped with a custom canvas cover that keeps her clean and dry while underway. The whole package is an example of industry, function and aesthetics.
Currently taking orders! New CALABANS are made in Massachusetts and can be shipped all over the world. Call to place your order or for additional information: 508-563-2800
---
CALABAN Gallery - click any image below to launch gallery and auto-play... or use keyboard arrows to navigate or controls on image hover. Finger swipe on mobile.
---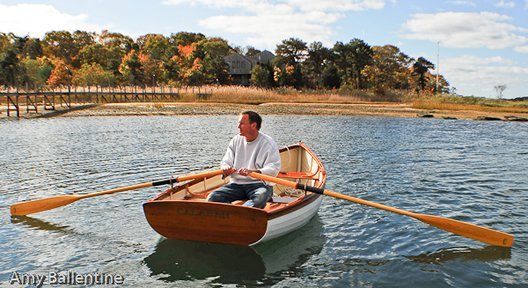 ---