Ballentine's Maintenance & Finish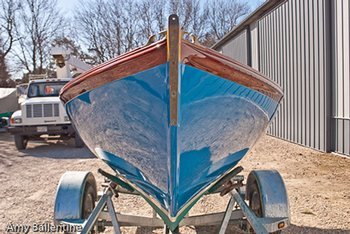 Our finish department is widely known for the quality of their work, just ask around from Connecticut to Maine. Consistently our wooden boats are mistaken for fiberglass hulls because they look that fair. Fiberglass boats in our care also stand out as we keep them well polished and protected. They are clean and elegant with the same attention to brightwork as our wooden boats. Look at the pictures throughout this Web site to appreciate the skill of our finish department.
Our finish department can:
• Refinish and maintain brightwork
• Fair and paint topsides
• AwlGrip hull and decks
• Gelcoat fiberglass
• Non-skid deck
• Recondition and oil natural teak decks and soles
• Minor repairs in fiberglass (we are also well known for our woodworking)
• Refinish varnish or paint in interior
Ballentine's Yearly Maintenance Regimen:
All of our storage customers benefit from our extensive and consistent maintenance course. Our yearly schedule allows us to care for each boat thoroughly, with our goal being to protect her longevity and have her looking her best when the owner is ready in the Spring.
Fall Boat Maintenance:
• De-rig, un-step mast
• Haul and wash, move back to Ballentine's Boat Shop
• Secure and store Spars: all spars are stored inside
• Store: All wooden boats are stored inside on gravel floors, small fiberglass boats are covered with custom protective covers and stored outside, ARIEL II is stored in a climate controlled building (she is the Queen of the Fleet after all).
• Any cushions are removed and stored out of the boat.
• Winterize systems and engine, change oil, filters etc.
• Sails are sent to Harding Sails for inspection, cleaning and any necessary repairs.
Winter Maintenance:
• Clean and evaluate boat: all hardware and parts are removed when practical to ensure the highest quality of finish.
• Prep and varnish all brightwork, including spars and parts. Usually consists of spotting on any damaged areas and 2 full maintenance coats.
• We recommend that all raw teak soles and decks are oiled
• Wooden boats are prepped, primed, and painted. Fiberglass is compounded and waxed.
• Stainless hardware and accessories are polished
• Winches are serviced
• Standing and running rigging is evaluated and replaced as needed
• Any repairs are addressed and upgrades requested by the owner are completed.
• Bottom is prepped and painted
Spring Commissioning:
• Final coat of oil on decks and soles
• Transport to waterfront
•  Launch: The Herreshoff 12s are launched with our crane truck "Moby II", the larger boats are launched by Parker's Boat Yard with their travel lift.
• Step mast, rig, & put on sails
• Commission engine and systems, fill tanks
• Delivered if desired or put on one of our moorings for the owner to pick up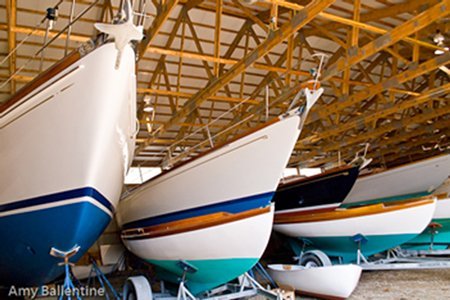 While this level of care is inherently time intensive and we insist upon being thorough, our labor rate is competitive. Our employees have been with us for many years, so they are as practiced and efficient as can be found.
The majority of our customers store here and we take care of all aspects of the boat's care and schedule from haul through launch. However, some boats on trailers come for the winter maintenance schedule and then return to their home port for the launching and hauling. Often larger boats that are moored and stored elsewhere come to us mid season for paint and varnish maintenance. This work is sometimes completed in the water and sometimes the boat is hauled and brought back to the shop. It is scheduled for a week or two when the owner does not need their boat. For more information on this option please Email or call us at 508-563-2800.
---
Maintenance & Finishing departments - select any thumbnail image below to launch gallery and auto-play... or use keyboard arrows to navigate or controls on image hover. Finger swipe on mobile.