The Doughdish...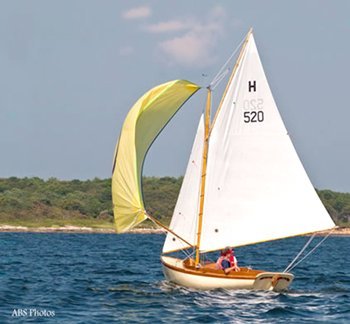 The Only Fiberglass Herreshoff 12 1/2 for H Class Racing!
Let us build one just for you!
In 1914 N.G. Herreshoff designed and built the first of several hundred 16 foot long (12 1/2' on the waterline), gaff rigged sloops, which became the H Class, usually called Herreshoff 12 1/2 footers. These interesting boats were originally conceived as a Buzzards Bay yacht for children, but they became a favorite of all ages and were sold all over the world. This design has long since established itself as one of the foremost examples of yachting genius, for no other type boat has acquired a more enduring popularity. The mere fact that, in 90 years, no significant modification has been made in the design testifies to its perfection.
The DOUGHDISH is exceptionally seaworthy and capable in all kinds of weather, as comfortable to sail as a small boat can be, is surprisingly fast, and has abundant space for a crew of 4 persons. She is lovely to single-hand, and can be managed by children or great-grandmothers, yet still enjoyed by seasoned yachtsmen and women. In addition, she is distinctively charming with beautiful lines and first class construction. She turns readily and reliably, has a self-tending jib, and accommodates her crew inside the cockpit on ample seats with unobstructed legroom. The sheets are normally cleated, rather then held, as in most small sailboats. You can stand anywhere on the boat without fear of instability. It takes no time to set sail or put her to bed. The fiberglass hull is relatively easy and inexpensive to maintain and is very strong.
If you are interested in more information on this wonderful classic fiberglass daysailer please visit our DOUGHDISH Web site, or Email Us as we have both new and used boats available or would be delighted to custom build one just for you.
Currently taking orders! New Doughdishes are made in Massachusetts and can be shipped all over the world. Call to place your order or for additional information: 508-563-2800
The Doughdish - Overview and Specs (PDF)